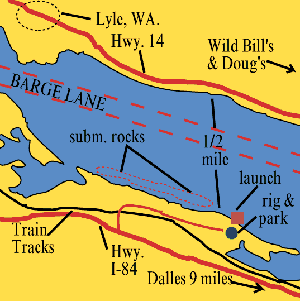 Rowena
"Better and better" Some of us remember when to get to the beach in Rowena you needed a four wheel drive and your hiking boots. Not any more. Rowena, aka Mayer Park East, is now one of the most carefully developed and user friendly sites in the Gorge. Paved parking, manicured grass rigging areas, picnic tables and restrooms are some of the major improvements that have been made by the State of Oregon at this fast growing site. And things jsut get better as you get to the water - with its wide open launch and sailing area, Rowena can accommodate hundreds of wind crazed slalom and bump and jump boardheads of varying abilities. Rowena is a real favorite of those sailors who want some of the Gorge's best West winds, but don't want the big swells that usually accompany them.
RIG & LAUNCH There is lots of room on the numerous grass rigging areas that have been set aside near the parking - as good as it gets. To launch walk your rig down the paths that have been made for that purpose. The wide beach is sandy and rocky and usually littered with rigs - watch your step. The entry into the water is over a rocky, sometimes slippery shore. There's plenty of room to spread out so don't crowd.
WIND Anywhere from 3·5 to 5·0 is common and it can be nuclear on big days. Though sometimes windy in the morning, it typically tends to build and be better in the afternoons. It usually doesn't blow quite as hard as it does at Doug's, but it is just as consistent. Best in summer, but there is also good sailing in spring and fall.
WATER Just slightly over 1/2 mile wide, this long, straight section of river has a moderately strong current and features 2 - 3 foot swells mid-river with chop at the launch. Bigger swells are found in the Wild Bill's / Doug's Beach area just a couple of downwind reaches away.
GETTING THERE Take the Rowena/Mayer State Park exit #76 off I-84. Turn north off the exit and cross the railroad tracks. Take a right and follow the road all the way down to park entrance. After you've paid the $2 entry fee - you park in the parking lot. Where else? Just remember, don't drive fast on the narrow entry road — the residents don't appreciate your rush.

[Home]

---