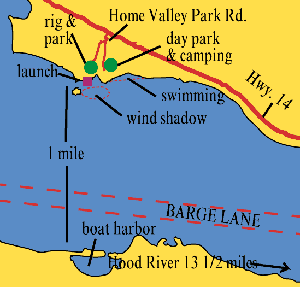 Home Valley
"Easy does it" As friendly as its name implies, Home Valley is one of the best Gorge sites for families, intermediates and first timers to the Gorge. East and West winds can both blow here, but a Westerly is the favored direction. Slalom is the call for both wind directions, as this wide, flat water spot never really develops much of a swell. Keep your eyes open at the cove launch area because you'll usually find beginners practicing waterstarts and children splashing nearby. Rounding out the family recreation amenities are Home Valley's improved park, playground equipment, protected swimming, softball field, picnicking, rest rooms and camping.
RIG & LAUNCH An easy site to get prepared at, there are wind sheltered, grass rigging areas located adjacent to the parking area, and along the road that leads down to the launch. At the launch a small, rocky cove provides easy access to the typically mild conditions.
WIND Frequently holey in the middle during a Westerly, which will usually range from 4·5 to 6·0. East winds are gustier and can dip you into the smaller sails of your quiver. Summer fun all day on most West winds, but an Easterly can shut down in mid-afternoon.
WATER Generally mild currents produce good slalom cruising and speeding. Expect small, 1 - 2 foot swells with chop near the launch for jibing. A bit more challenging, a heavy East wind can create 3 foot swells with the current running the same direction as the wind.
GETTING THERE Located off Highway 14 in Home Valley, WA. It's 9 miles east of Cascade Locks, 6 miles east of Stevenson and 16 miles west of the Hood River Bridge. Turn south at the entrance to Home Valley Park, cross the railroad tracks and take the second right to the windsurfing area (follow the sign). There's plenty of parking unless the wind arrives early and you arrive late.

[Home]

---