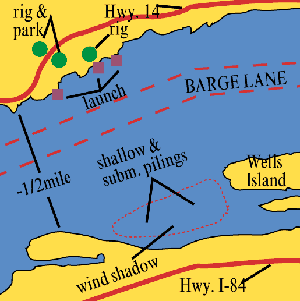 The Hatchery
THE HATCHERY "The bump & jump capital of the Gorge" Some of the Gorge's best sailors call The Hatchery their favorite place to shred. No wonder. Few places will impact your brain cells like The Hatch on a big one. The big swells and the break off Foto Point are prime turf. There, more loops and radical aerials performed on this small chunk of river than anywhere else in the Gorge. And the action is up-close and personal. The Hatchery's swell line runs parallel to the launch and is close to shore. No binoculars are needed to catch big moves, vicious mid-air collisions, full impact landings on unsuspecting waterstarters, jibe-wars and sideswipes. It's why you'll see so many photographers, gapers and team riders. It's the place to be if your film conscious. It's also a place that seems to attract the unprepared. Almost everyone who comes to the Gorge wants to sail the Hatchery, even though many of them shouldn't. Need we say it again, this an "experts only" area.
RIG & LAUNCH Rig on the grass and dirt area in front of the porta-potties, or next to your vehicle where you've parked. There are three main launching areas. The most obvious is right down the boulders off Foto Point by the entrance to The Hatch. The second is down and off the rock embankment in front of the main rigging area. The third is easiest, but farthest from the main parking lot - located east of the rigging area is a small rocky cove that is protected from both wind and swell. There are trails to and from this cove to the main and adjacent parking areas.
WIND Consistent 3·5 to 4·5 West winds and smaller cloth is needed frequently. If you're here all day, you'll go through a couple of sizes, especially in Spring. Summer mornings usually work best, but it can blow all day. Cleaner winds can be found at the far east end, near the buoy that's off Well's Island.
WATER Rolling and pitching 6-8 foot swells can come through on any big wave day. The swell line is close to the Washington side so most aerials occur close to the launch side. Once past the main channel, the water flattens out into chop, but don't sail it into the Oregon shore - the submerged stumps and pilings will ruin your day. Starboard ramps, port ramps - you want it, you got it! It's always crowded, so watch for incoming jibes and landings from above as you launch.
GETTING THERE 3 1/2 miles west of the Hood River Bridge and just east of Swell City, off WA Hwy. 14. Pull into the Spring Creek Fish Hatchery (south) parking lot. Park in the gravelled areas or completely off the road. Never park on or block the access road to The Hatch.

[Home]

---