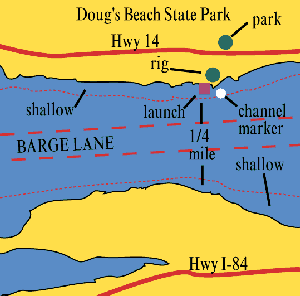 Doug's Beach
"Endangered" Big wind and big waves, Doug's is one of the spots that the Gorge's reputation and mystique is built upon. Definitely not for the casual, intermediate, or the non-vertically minded, Doug's Beach State Park continues to draw bigger and bigger crowds, while the parking is being reduced more and more. This premiere launching pad, discovered one windy afternoon in the early 80's, is now one of the prime targets of the extremists who view windsurfing as a problem, not a resource. They've used the issue of parking as a way to limit the number of windsurfers accessing this area. And so far, they've been successfull. Doug's is also under scrutiny as a potential Indian artifact site. One of these days, we may all say that we remember when we could sail at Doug's. (If you don't want this to happen join SOS). Needless to say, the competition for space in the parking lots will be intense this year. Once inside the park thing's loosen up a bit - park improvements include a wide paved path to the beach, multiple porta-potties, and a fence that helps protect overly anxious sailors from trampling over the area or being trampled by on-rushing trains. No improvements are necessary for the spectacular conditions you'll find at this legendary airborne headquarters. Doug's consistently serves up some of the conditions in the Gorge. RIG & LAUNCH Though it is crowded, the park can absorbe a lot of bodies. It's big and open with plenty of room to rig in the grass and flats. Unlike the Hatchery and other big wave spots, Doug's has one of the best sandy beach launches in the Gorge.
WIND Big West winds will be as good as they get in spring and summer. You can still find great sailing into late fall, but it will be less consistent. Big sails are seldom required. Expect 3·5 to 4·5 conditions with frequent nuclear days.
WATER Big swells are formed by the surge of current forcing its way through this narrow channel. Grinding 6 - 8 footers with rapidly pitching shoulders are found in the middle with another choice break just off the point and downwind. Unlimited starboard ramps serving up big air attracts some of the most aggressive aerialists. Both sides are flat and shallow for smooth jibes and quick beach starts. Doug's will become very shallow on both sides in late summer with low water tables.
GETTING THERE 3 miles east of Lyle, WA on Hwy. 14. Look for the Doug's Beach State Park sign. You can be ticketed for not getting completely off the road and for not backing in. Please signal well in advance, as there is lots of traffic through this area. Good parking, but the later it gets the farther you walk.

[Home]

---