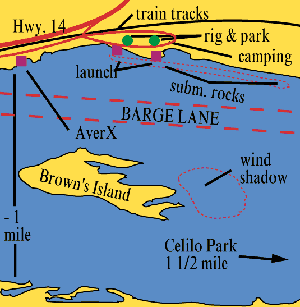 Avery &amp AverX
"The alphabet sites" Almost too close to The Dalles Dam and its wide open spaces, both Avery and AverX need a good push to get started. Once they do, both spots are a good choice if Doug's is too crowded. Avery, with its small, semi-developed park, offers some very nice conditions on a W-SW wind. Lightly sailed even when it's great, Avery has picnic tables, an outhouse, and a primitive, shaded camping area. It is acceptable for families willing to rough it in the wind and it offers good viewing. Just west of Avery is its sister site AverX. AverX is even less developed than Avery, yet this primitive sailing site offers somewhat better launching and sailing conditions. AverX has an excellent cove launch to some very good bump and jump terrain and on big SW days you'll find a short, but steep wave pattern for good slashing and airborne opportunities.
RIG & LAUNCH There are grass and dirt areas close to the parking at both sites, so rig next to your vehicle or where you can find the room. There are two launches at Avery: the first is off the wind shadowed boat ramp at the east end. The second is down a sometimes treacherous rock berm by the trees and parking area. At AverX, launch out of the cove, over the rocky shore.
WIND Strong SW winds are favored, as a Westerly will be gusty and erratic, but still fun when it's howling. Typical conditions will range from 3·5 to 4·5. If you're sailing from Avery be aware of the wind shadow that forms at the east end of Brown's Island.
WATER At Avery, the inside swell is perfect for down-the-face jibes close to shore. Head upwind slightly for the biggest swells. Normally expect 2 - 4 feet and the windier it is the steeper they will be. Bump and jump fun. AverX features swells 2 - 4 feet with good bump and jump sailing. On big days, between the west tip of Brown's Island and close to the launch, steep swells 3 - 6 feet will form. Standing waves will also curl and break near the point launch, creating formidable ramps with starboard favored.
GETTING THERE Travel east along WA Highway 14, 8 1/2 miles from The Dalles Bridge. Look for the entrance to the Avery Boat Ramp & Park. Turn south and follow the gravel road across the railroad tracks. For Avery turn east and drive into the Park's parking areas. There's room for 20 -30 cars. For AverX go west and follow the gravel road below the railroad tracks. Head west about 1/4 of a mile where the road ends. Park to the side or in the little parking area on the point. There's room for about 20 cars.

[Home]

---